Welcome to Raiatea Lodge Hotel !
Completely renovated in 2020, the Raiatea Lodge Hotel is a small charming 3-star hotel, located on the west coast of the sacred island.
The hotel stands out by its colonial style and its vast tropical park of more than one hectare in which are nestled our seven bungalows just waiting to be uncovered. After passing through the coconut grove, you will arrive at the spacious mansion which houses the rooms upstairs; the suite, the bar and the restaurant on the ground floor. These different facilities offer a breathtaking view of the lodge's swimming pool and the surrounding tropical garden.
Only 5 minutes away from the airport and 10 minutes from downtown Uturoa and its famous covered market, the lodge boasts an ideal location. Situated not far from the Tapioi and Temehani mountains, it will appeal to hiking and botanical enthusiasts. Moreover, its privileged location gives it a special charm and protects it from the prevailing winds, which are particularly felt from June to October.
Finally, the sumptuous setting and the panoramic view of the Pearl of the Pacific and its setting sun are ideal for romantic getaways…
Raiatea is located in the Leeward Islands archipelago, only 210 km northwest of Tahiti. Former cultural and religious center of East Polynesia, it is now not to be missed. True cradle of the Maohi culture, it remains the second economic pole of French Polynesia.
Comfortable accommodation in a Polynesian atmosphere
A noble wood, a refined style, the Raiatea Lodge Hotel blends in with the landscape but is certainly not lacking in character. Its warm atmosphere and sophisticated decoration make it a friendly place, perfect for relaxation.
Located on the first floor of the main building, the rooms overlook the lagoon or the lush garden while the bungalows are scattered along the sides of the tropical park. All categories of accommodation offer an intimate atmosphere where you can easily isolate and relax.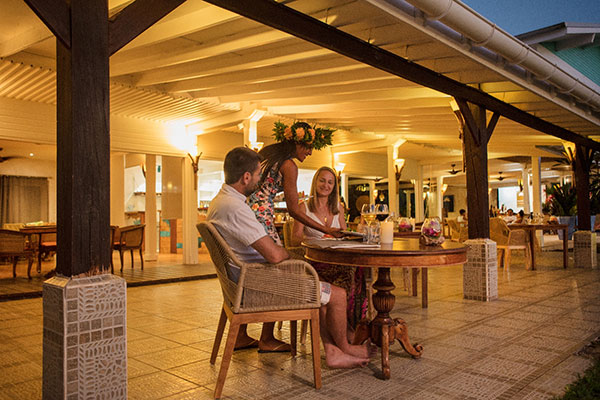 Restaurant
Appreciated for its tropical setting and relaxed atmosphere, the Raiatea Lodge is also a popular gourmet restaurant.
Shimmering colours, scents that tickle your nostrils and flavours that make your taste buds tingle, plus a sumptuous natural decor, the table has become a must!
Fish from the lagoon, meat from New Zealand, Polynesian flavours and Mediterranean influences, taste the expertise of our chef Franck Bezy, a devotee of homemade cuisine, and leave with lasting memories.
Activities
Located 210km northwest of Tahiti, Raiatea is the largest of the Leeward Islands. Dear to the heart of the Polynesians, the island has a particular magical atmosphere.
The first populated island in the Polynesian triangle, the island claims to be the epicentre of the migratory flow. True cradle of the Maohi culture, it is the second economic pole of French Polynesia and enjoys a certain aura, both historically and culturally.
To discover all this richness on several different days, you will be given a wide range of options: kayaking, diving, cycling, boat trips around the island, car rental, excursions to Taha'a, jet skiing or hiking…